SR-25

Weapon

Slot
Special
Weapon Type
Semi-Auto Sniper Rifle
Weapon Rating
Damage
High
Fire Rate
Medium
Range
High
Stability
Medium
Reload Speed
Medium
Ammo Capacity
8|60
Price
$4,000 (Gun stores)
Appears in
Watch Dogs
❝ The SR-25 is a modular semi-automatic sniper rifle with strong recoil but good stoping power and penetration.❞
―In-game description.
The SR-25 is a weapon featured in Watch Dogs.
Design
The sniper-rifle has its design based off that of the real life SR-25 (Stoner Rifle-25).
Performance
The SR-25 chambered for the use of 7.62×51mm NATO cartridges, contributing to a high amount of damage per round. The SR-25 offers extremely good accuracy.
Locations
Notable users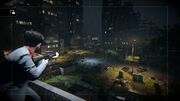 Trivia
At $4,000, it is the cheapest sniper rifle in the game.