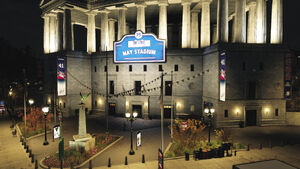 May Stadium is one of the City Hotspot locations found in Parker Square and is a landmark within Chicago in Watch Dogs.
History
May Stadium is a great place to catch a game. Built in 1901, the May was one of the first large-scale baseball venues in the country. Sit yourself among 35,000 fans for a game. When you're hungry, chow down on a tasty hot dog from the stadium's concession stand. Just make sure you have a shot of penicillin handy, because you'll need it!
Description
May Stadium is a baseball stadium, which is also the place where Aiden Pearce finds a key witness that has evidence that could land him in a lot of trouble with the police, once interrogated, in the mission Bottom of the Eighth. The stadium's appearance is clearly inspired by Wrigley Field, one of the real-life baseball stadiums in Chicago. The exterior also takes inspiration from Soldier Field, Chicago's football stadium.
Badges
The following badges are available at this hotspot:
| Badge Icon | Badge Name | Badge Message | How to Obtain | Mission |
| --- | --- | --- | --- | --- |
| | Batter Up! | Buy me a pretzel, would you? Enjoy the game fellas. | In a multiplayer session, check into the May Stadium with 3 players on your friends list. | |
Mission Appearances
Ad blocker interference detected!
Wikia is a free-to-use site that makes money from advertising. We have a modified experience for viewers using ad blockers

Wikia is not accessible if you've made further modifications. Remove the custom ad blocker rule(s) and the page will load as expected.