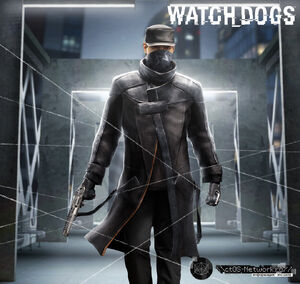 The Cyberpunk Outfit is an exclusive outfit for the U-Play Exclusive Full Rewards Pack in Watch Dogs. It is also accessible through the season pass.
Description
The outfit intended to be "the visual incarnation of a cyberpunk hacker" and is comprised of:
A black trench coat with an orange-brown interior.
A pair of charcoal trousers.
A pair of black hi-top boots.
A pair of black leather gloves.
A black face mask.
A black cap.
Trivia
In-game, this outfit comes with the Auto-6 handgun, but (for unknown reasons) the promotional pictures depict it with two entirely different weapons:
Ad blocker interference detected!
Wikia is a free-to-use site that makes money from advertising. We have a modified experience for viewers using ad blockers

Wikia is not accessible if you've made further modifications. Remove the custom ad blocker rule(s) and the page will load as expected.