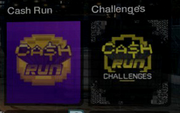 Cash Run is a Smartphone app that appears in Watch Dogs.
Description
The Cash Run app is a game that may be purchased for the Smartphone. Once purchased, the game can be played using one of the various trails that are dotted around Chicago.
Purchase
Each trail has a highlight on the ground, with the app's icon. When a new trail is nearby a HUD prompt will appear and a pop-up will appear above the trail's highlight, offering the player to purchase the new trail by pressing the triangle (△) button on PlayStation 3 and PlayStation 4 consoles, and Y on the Xbox 360 and Xbox One consoles.
Ad blocker interference detected!
Wikia is a free-to-use site that makes money from advertising. We have a modified experience for viewers using ad blockers

Wikia is not accessible if you've made further modifications. Remove the custom ad blocker rule(s) and the page will load as expected.