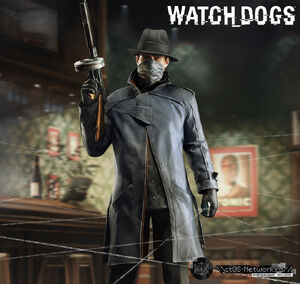 The 1920s Mobster Outfit is an exclusive outfit in Watch Dogs.
Description
The outfit is obtainable through the Uplay Exclusive Full Rewards Pack and the Season Pass. It features:
Dark grey trench coat style jacket
Black smart plated trousers
Smart black shoes
Classic dark fedora hat
White/grey face mask
Black leather gloves
Black buttoned undershirt 
Trivia
This outfit seems to be inspired by the 1987 movie The Untouchables.
This is the only outfit that has a hat different from a baseball cap.
Ad blocker interference detected!
Wikia is a free-to-use site that makes money from advertising. We have a modified experience for viewers using ad blockers

Wikia is not accessible if you've made further modifications. Remove the custom ad blocker rule(s) and the page will load as expected.